On January 9, 1964, at 4:50 PM, around 200 male and female students exited the Instituto Nacional heading to the Balboa High School to hoist the Panamanian flag. During the walk, students stopped singing the national anthem to pay respect to the sick at the Gorgas Hospital. Two police cars headed the peaceful manifestation.
Guevara Paz and Francisco Diaz made a deal with the Zonian officials to accept a six-student delegation, among them the Instituto Nacional flag bearer, and a classmate who was carrying a banner which read: "Panama is sovereign in the Canal Zone". The delegation arrived close to the flagpole area to sing the national anthem and raise the Panamanian flag at the Balboa High School, where mainly zonian students attended.
On the balconies and at the entrance of the high school was a hostile crowd of aproximately 2000 zonians. Suddenly, the six-student delegation from the Instituto Nacional was surrounded by hundreds of students and adult zonians.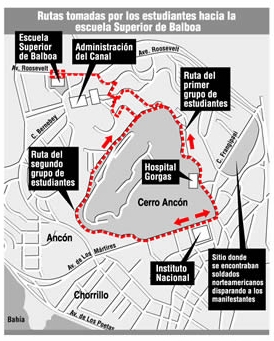 What really occured?
The Instituto Nacional flag bearer named Carranza describes it as follows:
"They slowly gathered around us. One shouted, then another one, then everybody. They started pushing us, and tried to take away the flag violently, while they insulted us".
The feeling of patriotism fogged the "Instituto Nacional" students eyes when a policeman from the "Canal Zone" ripped apart the Panamanian flag by using a stick. During the commotion, multiple hands pulled and tore the flag.
In the middle of "raining sticks", the students ran to protect the flag.
Somebody pointed at the United States flag on top of the Administration building, with the intention of getting back at the offense, however, zonian patrol cars and police had already taken their weapons out, and from the civil population homes, guns were already showing.